Yoh Nagao | 長尾 洋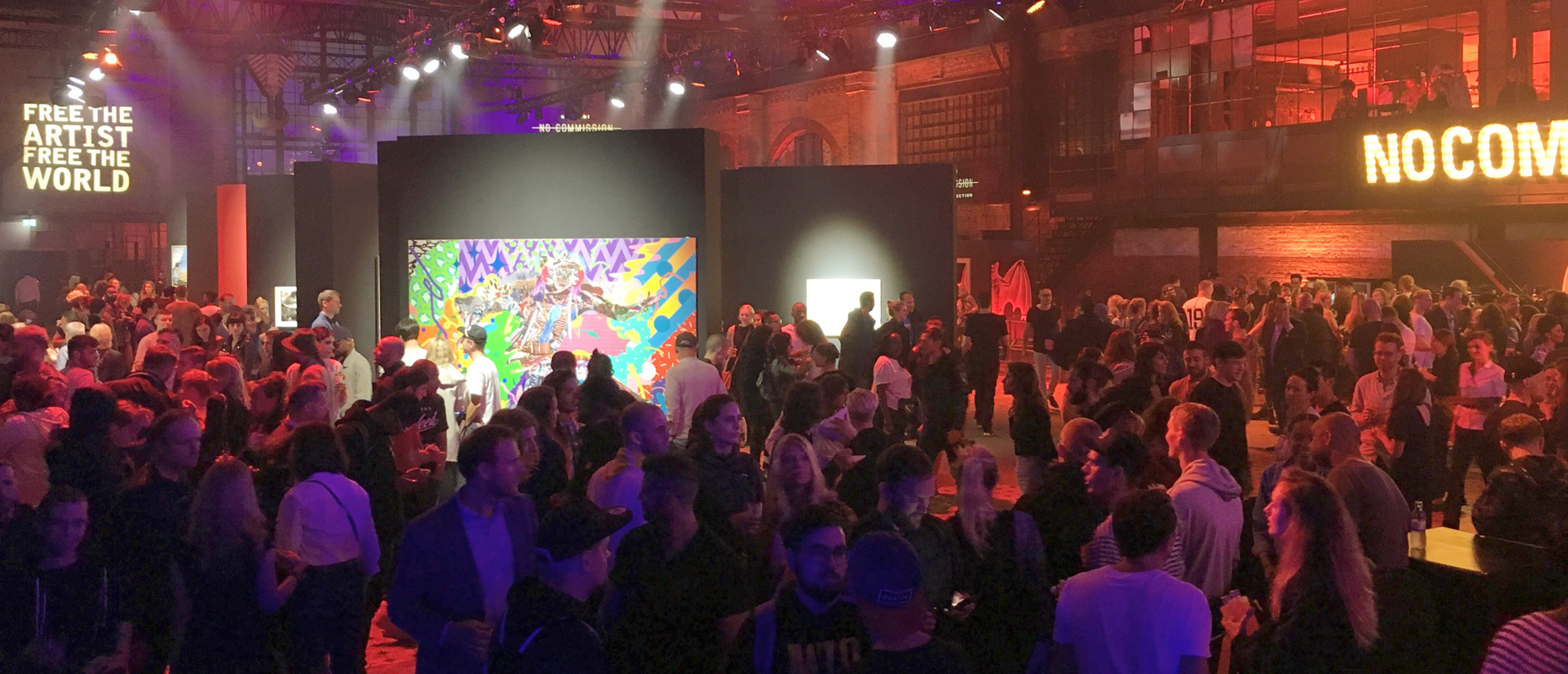 Biography
Yoh Nagao is a pop collage artist from Aichi Prefecture, Japan, based in Berlin since April 2012. After graduating from Nagoya Zokei University, he began working as a graphic designer and illustrator, while freely expressing his unique style as an artist.
He gained prominence in Japan after receiving the Uniqlo Creative Award in 2005 (now UTGP), exhibiting at the International Poster Triennial in Toyama, and being selected for the SHIFT calendar design contest. These successes at international competitions led Yoh to expand his work overseas. After a successful first-ever solo exhibition in Hong Kong in 2009, he received an honourable mention in the collage category of the international competition ARTAQ Urban Art Award (France) in 2011. He was invited to participate in the PICK ME UP Contemporary Graphic Art Fair held in London that same year, becoming a serious contender on the international art stage. Since then, his pieces were also showcased in numerous art fairs and events in Los Angeles, Miami, New York, Zurich, Berlin, Paris, Angers, London, and Tokyo.
In 2008, his work was displayed in the famous boutique shop Colette in Paris. His work has also been published in high profile magazines such as Nakedbutsafe (Germany), Lodown (Germany), Dazed and Confused (England), and DPI (Taiwan). In the summer of 2014, in Isla Mujeres (Mexico), he collaborated with the project SEA WALLS by PangeaSeed (USA), creating an outdoor mural with the artist Aaron Glasson (New Zealand) that was showcased in The Huffington Post and The New York Times online. He was also selected by the organisation World Art Destinations as one of the 30 artists who took part in the Festival International de Arte Público in Cancún, Mexico, where he created an installation of a 100 multicoloured paper planes that captivated the Festival's audience. Back in Japan, his art works were selected to depict the popular JRA Chukyo Racecourse in Japan for 2015, widely showcased in the subway network of Nagoya.
Nagao's pieces, exhibitions and artistic collaborations have steadily gained specialized but also wide public appreciation, confirming the rising value of his unique style and endless creativity, which is being recognized all over the world.
バイオグラフィー
長尾 洋は2012年よりドイツ・ベルリンを拠点に活動している愛知県出身のコラージュアーティスト・ポップアーティストです。
地元愛知県の名古屋造形大学を卒業後、グラフィックデザイナー、イラストレーターとしての仕事の現場でも存分に個性を発揮しながらもアーティストとして精力的に活動してきました。 頭角を現すようになったきっかけはユニクロクリエイティブアワード2005(現UTGP)、世界ポスタートリエンナーレ富山、SHIFTカレンダーデザインコンペティション等の国際的なコンペティションで作品がセレクションされたこと。これらの評価を受け、長尾本人の目も世界を向くようになり、2009年には人生初となる個展を香港で大成功させ、国際的なコンペティションでは2011年にARTAQ Urban Art Award(フランス)のコラージュ部門にて佳作を受賞。同年にはロンドンで開催されたPICK ME UP Contemporary Graphic Art Fairにも招待されるなど、活躍の舞台がより本格的に世界へと開かれて行きました。その後もLA、マイアミ、NY、チューリッヒ、ベルリン、パリ、アンジェ、ロンドン、東京などで開催されたアートフェアやイベントに多数参加。2008年にはパリの有名セレクトショップ、Coletteでも作品が展示されました。 さらに、LODOWN magazine(ドイツ)、DAZED AND CONFUSED magazine(イギリス)、dpiマガジン(台湾)といった世界的に知名度のある雑誌や書籍にも取り上げられるなど、その独創的なスタイルやクリエイティビティー、世界観がさらに認知されてきております。このようにメディアに登場する機会が多くなるにつれ、独特かつ強烈にメッセージを発する長尾の作風がますます注目も集めるようになってきました。
2014年夏にはPangeaSeed主催のSEA WALLSプロジェクトに招集されメキシコのムヘレス島にて自身初となる屋外の大型壁画をニュージーランドのアーティストAaron Glassonと共に制作。2015年2月にはFIAP(インターナショナルパブリックアートフェスティバル・カンクン)において、30名の国内外のアーティストで唯一のアジア人として招待され、100機以上にも及ぶ紙飛行を使ったインスタレーションを制作・展示しました。日本国内ではJRA中京競馬場の2015年の年間ビジュアルにイラストが採用されるなど、非常に精力的に活躍している長尾は現在もっとも注目すべき新進気鋭の日本人アーティストとして認知されてきています。
Philosophy
At our modern society, we are taking so many issues such as war, sickness, natural disaster, resource, environment, food and etc. The situation is getting harder and harder.
The world is totally losing its balance, pursuing just economy and ideology can not manage our modern life any more in this planet. We even would lose the chance of recover, human will be collapsed if the situation continues the same way.
However, under this hard situation, Nagao believes that art can change our world better place.
In his art, he uses figures, animals and landscapes to expresses love, happiness, warmness, pleasure and elation such as invisible emotional feeling which is hard to describe in words. These are the senses which we are absolutely missing in modern society. He thinks these invisibleness contains are getting more importance for us now a days. They are also the key to live up in our society better.
Nagao's aim is to tell these thing to the people through his art which is not only his way of connection with the society, but also his mission as an artist.
思想と哲学
現代社会において、戦争、病気、天災、資源、環境、食料などありとあらゆるものが極限の状態におかれ、私たちが今まで必至に追いかけて来た経済やイデオロギーだけでは世の中はますますバランスを崩し、更にはこれらの問題の前にして全くなす術がなくなりつつあります。長尾はこのままでは人類がいずれ破綻してしまうことを危惧しています。
しかしながら、そのような現代社会において、長尾はアートの力で世界を変える事ができると強く信じています。
長尾は自身の作品を通して愛、幸福、優しさ、喜び、高揚感など、言葉にできない感情的な情景などをを人物や動物、風景をモチーフにして表現しています。それらは現代人の多くが見失いつつある心理的なゆとりやポジティブさ、幸福感ではないでしょうか。このような不過視性の高い事ほど、我々にとってより重要な事であり、そしてこの現代社会を健やかに生きるために欠かせないカギでもあると確信しています。
長尾はアートを通してそれらをより多くの人に伝える事を、アーティストとしての社会との関わり方、さらにはミッションであるととらえています。
[Exhibitions]
2017 - No Commission | Bacardi+The Dean Collection, Berlin, Germany
2015 - Group Exhibition DREAMLANDS, CHG Circa, Los Angeles, USA
2015 - LA ART SHOW, Los Angeles, USA
2014 - SCOPE Miami Beach, Miami, USA
2014 - Birth of Cool group exhibition at The Ballery, Berlin, Germany
2014 - Detour Through Wonderland, first european solo exhibition, Berlin, Germany
2013 - Art Fair ULTRA 006 at Aoyama Spiral, Tokyo, Japan
2012 - ARTAQ URBAN ARTS AWARDS, Angers, Paris, France
2011 - ARTAQ URBAN ARTS AWARDS, Angers, Paris, France
2011 - Mar. Pick Me Up contemporary graphic art fair at Somerset house, London, UK
2010 - Oct. Group exhibition "ism 2010", tambourin-gallery, Tokyo, Japan
2009 - Dec. Fountain Miam Art fair, Miami Florida, USA
2009 - Feb. JOURNEY solo exhibition, Gallery Benten 17, Hong Kong
2008 - Dec. WONDERLAND art for all Group exhibition, Gallery Benten 17, Hong Kong
2007 - Dec. Project "WE-ARE -FAMILIA" at Colette, Paris, France
[Competitions]
Artaq Awards 2011, Collage MENTION, France
SHIFT 2008 CALENDAR competition selected
8th INTERNATIONAL POSTER TRIENNIAL IN TOYAMA 2006
UNIQLO Creative Award 2005 top sellection
14th CNIC New Illustrator Competition etc...
[コンペティション受賞歴]
Artaq Awards 2011,コラージュ部門 佳作, フランス
SHIFT 2008 カレンダー・コンペティション 入選
第8回世界ポスタートリエンナーレ富山2006 入選
UNIQLOクリエイティブアワード2005 トップセレクション
第14回CNIC新人イラストレーターコンペティション リキテックス賞受賞など
[Books & Magazines]
NAKEDBUTSAFE Magazine Issue7, 2014, Germany
MITTESCHöNE Magazine July 2012, Germany
Fresh 3: Cutting Edge Illustrations Print, Slanted Germany
dpi Magazine vol.139, TAIWAN
DAZED AND CONFUSED, KOREA
West East Magazine issue 28 "YOUTH", HONG KONG
Ming Pao daily weekly magazine, HONG KONG
iLLUSTRATiON BOOK PRO 02, JAPAN
ASIAN YOUNG GRAPHIC DESIGNERS, GERMANY
STREET T, SPAIN
Khooligan magazine, RUSSIA
etc
Any inquiries, feel free to contact Yoh Nagao by e-mail please.
Yoh is looking for galleries, agents, productions or curators from all around the world to establish trusting and highly-motivating partnerships with, and extend his field of work further.
contact//aatt//yohnagao.com
お仕事のご用命、寄稿やコラボレーションのリクエスト、ご質問などはEメールにてお気軽にお問い合わせください。
只今、今後の仕事と活動の幅を広げる為、信頼でき末永くお付き合いのできるパートナー様(ギャラリー、エージェント、プロダクション、キュレーター)を探しております。
contact//aatt//yohnagao.com